Subsidence Training Day Webinars 2021 – Registration now open!
The schedule for this year's training day webinars has been confirmed and registration is now open!
This year's schedule will run as follows: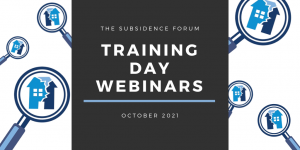 Last year's webinars were hugely successful and welcomed a fantastic vareity of demonstrators and topics:
Mock up of Tree Root case – DACB explored the legalities surrounding tree root nuisance cases by way of a mock trial, highlighting the common issues raised by claimants and defendants.
Complex subsidence repairs – Specialist subsidence repair contractor, Optera demonstrated some difficult claim scenarios and the use of innovative repair methods to deliver cost effective solutions.
Ground Injection techniques – Geobear have a number of different products that can be used to repair subsidence damaged properties and will be demonstrated a selection of these.
Site investigations and soil logging/descriptions – Shire demonstrated a typical subsidence site investigation, showing how different soils samples are collected, logged and identified.
Masonry reinforcement – Helifix provided a practical demonstration of crack repair methods, using masonry reinforcement techniques.
You can watch last year's webinars here: