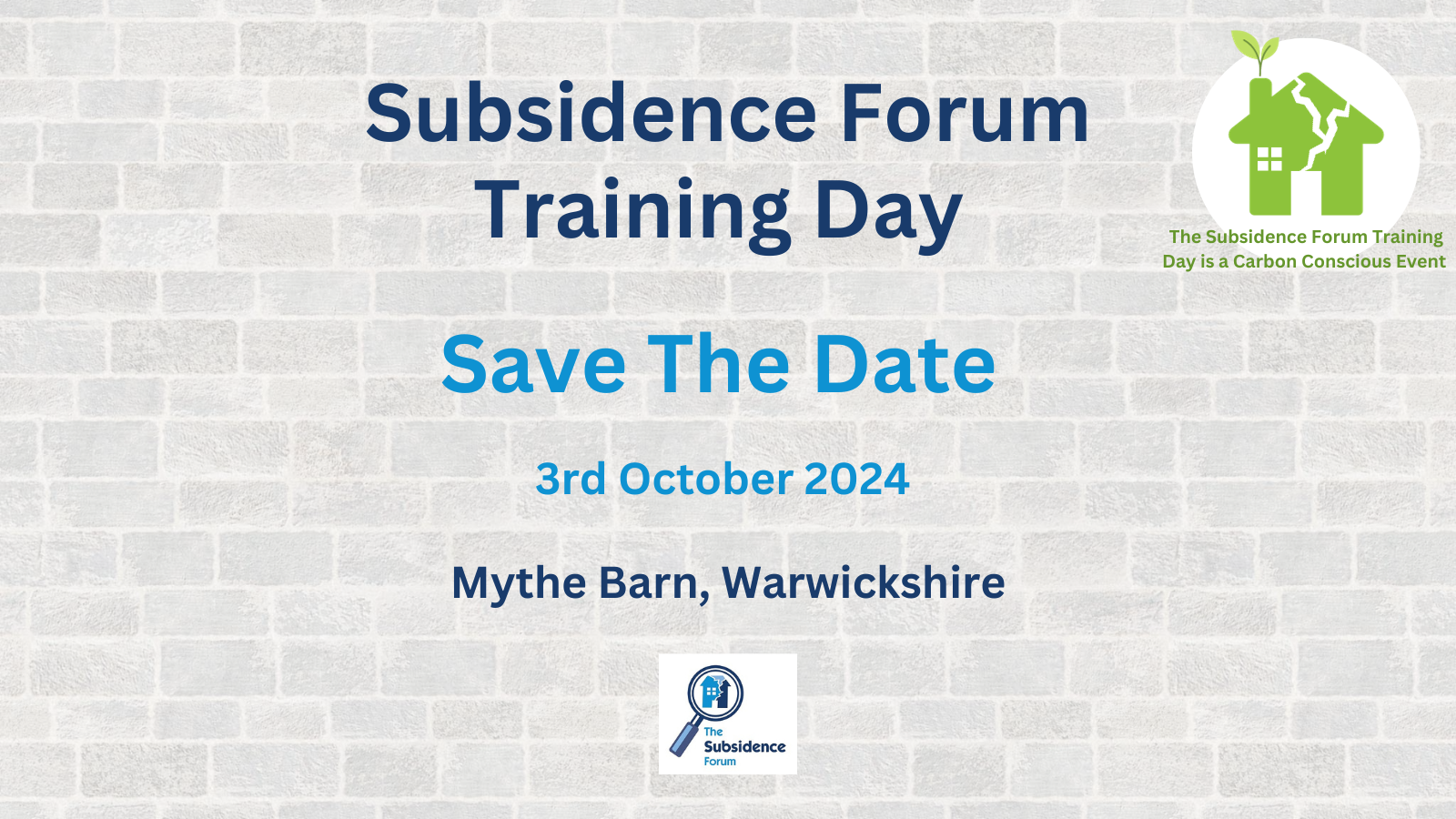 Subsidence Forum Annual General Meeting
Date: Wednesday 10 May 2023
Location: The Oxfordshire, Rycote Lane, Milton Common, Thame, Oxfordshire, OX9 2PU
The 2023 Subsidence Forum Annual General Meeting will be held at the Oxfordshire Hotel on the 10th May 2023
The meeting will start at 11 AM in The Oxford Suite, followed by a buffet lunch at 12:30 PM
An agenda will be announced nearer to the date, if you would like to register your interest or find out any further information please email bookings@agmhouse.com
I Love Claims specialist home & property conference
– March 23, 2023 9:00 am
– Manufacturing Technology Centre, Coventry
Join the I Love Claims specialist home & property conference, the Subsidence Surge! We're pleased to say we have involvement from the Subsidence Forum with Chair Sarah Dodd joining us on the day.
The day will consider:
The size and progress of the Surge
The resource and innovation used so far
The next phases
To join around 150 industry specialists on the day please register for your place at: https://lnkd.in/eSSTzbMq
2022
TRAINING DAY – TEWIN BURY FARM 2022
13th October 2022
This years Subsidence Forum Training Day was held on Thursday 13 October at Tewin Bury Farm, Hertford Road, Welwyn, AL6 0JB.
This CPD event offered delegates an opportunity to witness interactive demonstrations and see first-hand the multiple areas of subsidence investigation, repair and monitoring. Following an initial welcome and introduction, delegates were divided into groups to tour a range of demonstration areas. The demonstration areas included:
Root Barrier
Water Main testing
Tree Valuations
Heave
Subsidence Repair Methods
Lunch and refreshments were provided, and there were plenty of opportunities to network with fellow delegates throughout the day.
2021
More recently 2021 saw a wide variety of demonstrators and presenters again, each bringing interesting discussions and topics to the day.
The schedule was as follows:
1st October 2021 – Update from NHBC and Abbey Pynford demonstrating a piled raft repair
8th October 2021 – DACB cover the Environment Act and Catalyst demonstrate drainage investigation
15th October 2021 – Statutory Tree Protection by PRI & an extended Q&A session
The webinars were all recorded and are available to watch on our YouTube channel. 
TRAINING DAY WEBINARS 2020 – The 2020 Subsidence Forum Training Day took place in a different format due to Covid restrictions. The event offered a series of online webinars across three days allowing delegates to view in action demonstrations and ask questions to our guest presenters on the day relating to all matters subsidence.
The webinar programme can be viewed online as detailed below:
Mock up of tree root case –
Complex Subsidence Repairs & Ground Injection Techniques
Site investigation and soil description and Masonry reinforcement
To view the webinar recordings from last year, please visit our YouTube channel. 
The webinars welcomed a fantastic variety of demonstrators:
Mock up of Tree Root case – DACB explored the legalities surrounding tree root nuisance cases by way of a mock trial, highlighting the common issues raised by claimants and defendants.
Complex subsidence repairs – Specialist subsidence repair contractor, Optera demonstrated some difficult claim scenarios and the use of innovative repair methods to deliver cost effective solutions.
Ground Injection techniques – Geobear have a number of different products that can be used to repair subsidence damaged properties and will be demonstrated a selection of these.
Site investigations and soil logging/descriptions – Shire demonstrated a typical subsidence site investigation, showing how different soils samples are collected, logged and identified.
Masonry reinforcement – Helifix provided a practical demonstration of crack repair methods, using masonry reinforcement techniques.
ANNUAL GENERAL MEETING 2019- The Subsidence Forum Annual General Meeting was held on Thursday 16th May at The Bicester Hotel, Oxford. The meeting welcomed guest presentations from Liam Hanlon and Lynne Johnson about the Insurance Industry National Apprentice Academy. A second presentation was given by Sne Patel and Nigel Barham entitled "2018 – Subsidence Surge- through the eyes of today's customer". Their presentations are available to view by clicking here.